This post is sponsored by Discover Omha.
This week, I had the distinct privilege of joining a group of Omaha bloggers on a VIP-culinary tour of the city, courtesy of Discover Omaha and their vendor partners. And what a night it was!
Discover Omaha is a company passionate about sharing the city with visitors and locals alike. They offer a series of luxury tours, coordinated and curated to perfection. We participated in their "Dishes and Drinks" tour, which afforded us the opportunity to try cocktails and dishes from four different restaurants, all in different parts of the city. They have several other tours to pick from for all culinary tastes, ranging from brunch to dessert to cocktails, and they can accommodate as few as six to as many as 30 people.
As a 26 year-old just coming out of grad school, "luxury" isn't really in my vocabulary, but the tours are shockingly affordable. With a group of six, our tour would cost $89 a person, which includes limo service that will pick you up from your home or hotel, your first cocktail, and a sampling of a few dishes at three to four restaurants. It's definitely something I would love to do with friends one or twice a year. The tour is four hours long, and at every stop, we were greeted by someone who was extremely knowledgeable about this history of the restaurant and the food we were eating, which really elevated the experience.
What surprised me most, though, was how much I didn't know about Omaha. I hadn't been to any of the restaurants that were selected for us, despite the fact that I eat out nearly every weekend. Discover Omaha has several restaurants that they work with, so the places I went may not be the places that you will, and there's a fun surprise factor in that you won't know where you're going until you hop into the limo that day. The restaurants also curate the food that you'll be eating, which meant I tried so many dishes that I would never have thought to order for myself. I'm a picky eater, so this made me nervous, but I loved nearly everything we tried. Here's where we went:
Au Courant
A restaurant located in Benson, Au Courant was the perfect place to start our tour on that beautiful spring day. Filled with light and vintage vibes, I kept leaning over to Josh and saying, "This is what I want our house to look like." Their ingredients are locally sourced, and their menu changes frequently. My first cocktail of the night was the Brass Monkey, and it was delicious. Another great thing about Discover Omaha tours - I never order cocktails because I'm scared to waste $10 on something I won't like. This was the perfect opportunity to be a little crazy. It was citrusy, and the first drink I've ever had that contained absinthe. And boy - it was so pretty!
The food was also INSANE. We had a Chovie's egg, which was a poached egg paired with pig's ear, potato, and maple. Never, ever would I have ordered that, but it was so good. We also had an incredible chive donut filled with jam and beef. It was the mix of savory and sweet I didn't know I needed.
Le Bouillon
Le Bouillon is a French restaurant in the heart of the Old Market, and a place I've walked past a million times but never ventured into. I regret that now. We tried a series of hors d'oeuvres, including stuffed peppers, the most delicious finger sandwiches you'll ever eat, and a couple of tartine options. I'll admit that I didn't think that I would like the cocktail they served us there, but I can also admit when I'm wrong (it was green, and that made me apprehensive). It came in pretty little punch cups, and was made with white rum with apricot liqueur, matcha, and ginger.
I enjoyed learning about the renovation of the building from the owner, and looking at all of the artwork. They also have a wine room from which you can purchase your favorite bottles, and they offer free tastings every Friday and Saturday. We didn't have time to check this out, but I know that I'll be back so that I can!
Della Costa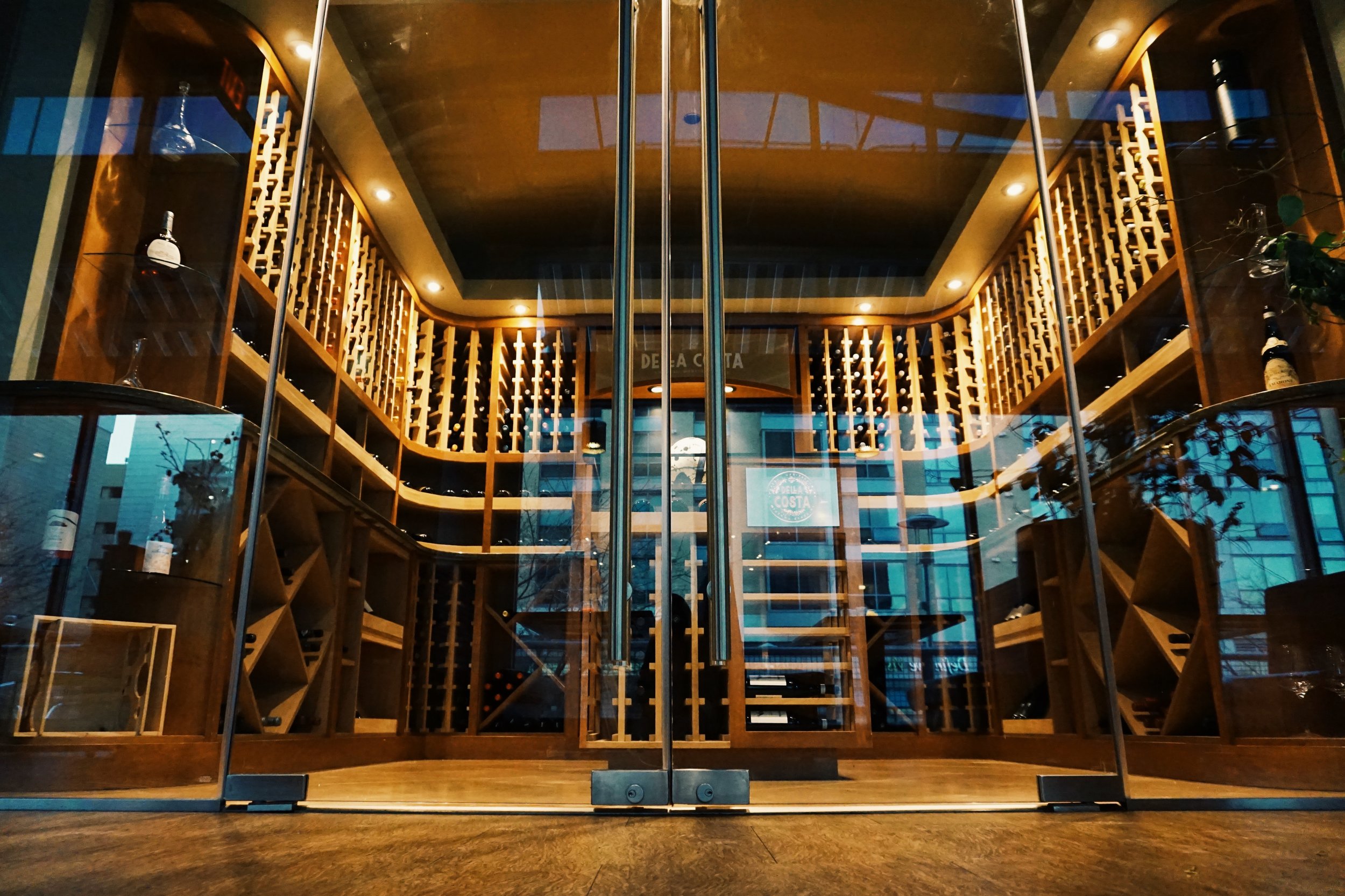 I was the most nervous to try Della Costa, a Mediterranean restaurant recent to the Midtown area. We were offered a series of delicious small, shareable plates, including the most amazing shrimp I've ever had (so much flavor!), bacon-wrapped dates, fried eggplant, a hummus plate, and others.
We tried vermouth, which is not really a thing that we drink here in the U.S. I'll admit, it wasn't for me, but I really appreciated the experience! We also had delicious lemon-y cocktails that were definitely right up my alley. I also really appreciated how much time one of the owners took to explain what we were eating, and share what his vision was for the restaurant. I can't wait to come back here!
Stirnella
Our final stop was Stirnella, which a lot of my friends have been talking about. It's in the Blackstone District, which is a part of town that Josh and I really like (we're actually getting married in that area). Stirnella did not disappoint. I started my time there with a rhubarb margarita (what? Who thinks of that??), and it was perfect. I really love when I can taste the salt in my drink, and this was the right balance of salty and sweet.
We enjoyed fried risotto balls (um - yum), a delicious sandwich, and oysters, which I've never had. I love how all of their produce is sourced locally (not the seafood - we're landlocked), and everything was soooooo good.
By the time we got into the limo after Stirnella, I was stuffed and ready for bed. I had such an amazing experience on this tour. If you're looking for a great way to entertain guests, see Omaha, go on a wedding party, work tour, or whatever, this would be an AWESOME thing to do. Kudos to Alan and his team, and thank you for the opportunity.
Now go treat yourself and enjoy a night on the town! Find Discover Omaha here.
Previous Post:
Wax Buffalo: Read this if you need a great Mother's Day gift.